Alquiler de Furgonetas
refrigerated vans
Buscar furgonetas de alquiler
Refrigerated vans rental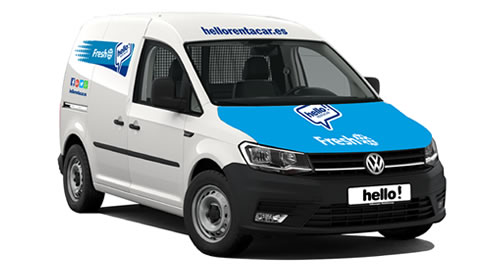 Rent your isothermal van whenever you need to
At hello! Rentacar we offer you the rental of refrigerated vans with the best conditions. We have refrigerated vans at your disposal to help you transport goods that require low temperatures. If you are looking for van hire with isothermal equipment, check out our models.
Your goods are vital for your business and that is why we want to help you ensure that they arrive in perfect condition when you need to transport them. The cooling equipment of our refrigerated vans for hire will allow you to transport everything you need to, safely. Foodstuff such as fresh vegetables fish and meat, or ice, drinks and a host of other products, will be kept fresh by maintaining the cold chain in our isothermal vans. We also have cargo vans available.
Refrigerated vans for rent for your business
The refrigerated vans that you can rent through hello! Rentacar are always in perfect condition and fully equipped for you to use them whenever you need to. Do you have to make a one-off delivery, or do you need an isothermal van for your work on a regular  basis? Do not hesitate to contact us and we will fill you in on all the options available to you.
Ventajas
Perfect for food
Quick and easy loading
Forget about maintenance
Different capacities
Características
Up to 20 degrees below zero
Double side doors
Ample loading space
Optimized storage: 1.55m x 1.18m
Requisitos
Minimum age of driver: 19 years
Minimum experience: 1 year
Ver vehículos disponibles
¿Por qué deberías confiar en nosotros?

Transparencia
La confianza se basa en una buena comunicación, por ello nuestros precios son claros y detallados, sin sorpresas de última hora.

Experiencia
Llevamos más de 30 años en el sector, miles de clientes satisfechos nos avalan. Hoy día somos una de las empresas mejor valoradas.
Seguridad
Nuestra flota se compone de vehículos modernos, y de primeras marcas. Nuestros alquileres incluyen seguro para conductor y acompañantes.

Servicio
Nos apasiona lo que hacemos, por eso siempre intentamos dar el mejor servicio posible a todos nuestros clientes.
Nuestras furgonetas de alquiler refrigerated vans

VW Refrigerated Van
¿Dónde puedes alquilar furgonetas refrigerated vans?