Van rental in Gijón
If you need to rent a van in Gijón, hello! Rentacar has two locations where you can pick up and drop off your vehicle: Gijón city centre and Gijón Renfe train station.
Discover our wide range of options for car hire in Gijón, both passenger vans and cargo vans. You will enjoy fully-equipped vehicles and always in the best condition. We also have the most competitive prices for van hire in Gijón: the price shown on the website includes all costs, with no last-minute surprises. Get your quote with absolutely no obligation.
Look no further: all the vans, or other industrial vehicles, you may need during your time in Gijón are at hello! Rentacar. Andshould you need to rent a car in Gijón, we also have the most competitive offers in the city.
hello! Rent a Car Gijón
Calle Rodríguez San Pedro s/n. Parking 'Parkia', Fomento, Espigón 1, 33206 Gijón, Asturias
OPEN
| | Morning | Afternoon |
| --- | --- | --- |
| Monday | 08:00 - 08:00 | 16:00 - 16:00 |
| Tuesday | 08:00 - 08:00 | 16:00 - 16:00 |
| Wednesday | 08:00 - 08:00 | 16:00 - 16:00 |
| Thursday | 08:00 - 08:00 | 16:00 - 16:00 |
| Friday | 08:00 - 08:00 | 16:00 - 16:00 |
| Saturday | 08:00 - 08:00 | 16:00 - 16:00 |
| Sunday | 08:00 - 08:00 | 16:00 - 16:00 |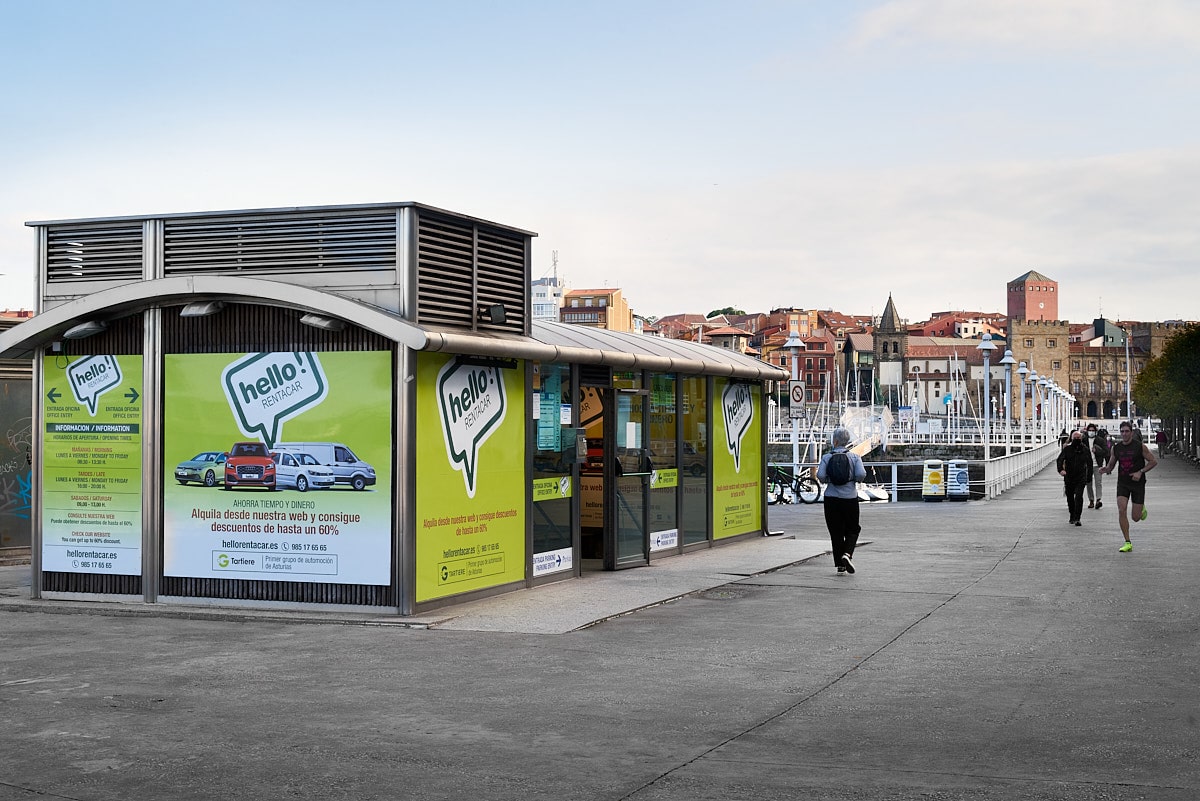 Why should you trust us?

Transparency
Trust is based on good communication, which is why our prices are clear and detailed, with no last-minute surprises.

Experience
We have been in the sector for more than 30 years; thousands of satisfied customers endorse us, making us one of the most highly valued companies in Spain.
Security
Our fleet is made up of the best brands of modern vehicles. Our rentals include insurance for driver and passengers.

Service
We are passionate about what we do, which is why we always strive to give the best possible service to all our customers.
Points of interest in Gijón
Gijón is a seaside town with a special charm. Our office is in the Puerto Deportivo (Fomento area), right next to the old town.
From there, you can easily get out of the city and in a few minutes, you will find yourself in beautiful rural surroundings. Only by car can you reach the Pico del Sol viewpoint, La Ñora beach or see the spectacular sunsets over the city from Monte Deva.
Gijón has an important Roman archaeological heritage: the thermal baths of Campo Valdés, the remains of the walled city of Cimadevilla or the villa of Veranes, are just a few of the must-see places which you can reach quickly with one of our rental cars.
Some great sculptors have also contributed to beauty of the city through their spectacular sculptures, such as El Elogio del Horizonte, by Chillida, on the Cerro de Santa Catalina.
If you like nature, be sure to visit the Atlantic Botanical Garden or the Gijón Aquarium, not forgetting the Universidad Laboral and its spaces dedicated to leisure and culture with theatre, exhibition halls, a large central courtyard where fairs and street markets are held, all within the walls of a spectacular piece of architecture that will not leave you indifferent.
Also, thanks to its unbeatable location right at the centre of the Asturian coast, from Gijón you can easily reach other places and towns in the region, such as the Picos de Europa, Oviedo, Avilés, Covadonga, Llanes, Cudillero, Lastres or Tapia de Casariego.