Van rental in Santiago de Compostela
Enjoy the most affordable van hire in Santiago de Compostela, through hello! Rentacar, located next to the train station. We have cars and vans for all occasions. Are you planning a move? Do you need a van for work? Or are you looking for a vehicle that allows you to carry more passengers comfortably? Enter our booking engine, select the van that best suits your needs and get your quote instantly. If you wish, you can also book directly online, making a significant saving. Can you imagine anything easier than getting your van rental in Santiago without leaving home?
Remember that you can pick up and drop off your Santiago van hire at either the city centre offices or the Renfe train station. We have a wide range of vehicles at your disposal: 9-seater passenger vans and cargo vans, plus we offer the best value for money in the city. We also have camper vans for rent in Santiago (Volkswagen California Beach model), should you be looking for a more independent way to travel. Why not check out our car rentals in Santiago too:  we have some great offers!
hello! Rent a Car Santiago Estación Tren
Av. de Lugo, 117, CP 15702 Santiago de Compostela
OPEN
| | Morning | Afternoon |
| --- | --- | --- |
| Monday | 09:00 - 13:30 | 16:30 - 19:30 |
| Tuesday | 09:00 - 13:30 | 16:30 - 19:30 |
| Wednesday | 09:00 - 13:30 | 16:30 - 19:30 |
| Thursday | 09:00 - 13:30 | 16:30 - 19:30 |
| Friday | 09:00 - 13:30 | 16:30 - 19:30 |
| Saturday | 09:30 - 12:30 | cerrado - cerrado |
| Sunday | cerrado - cerrado | cerrado - cerrado |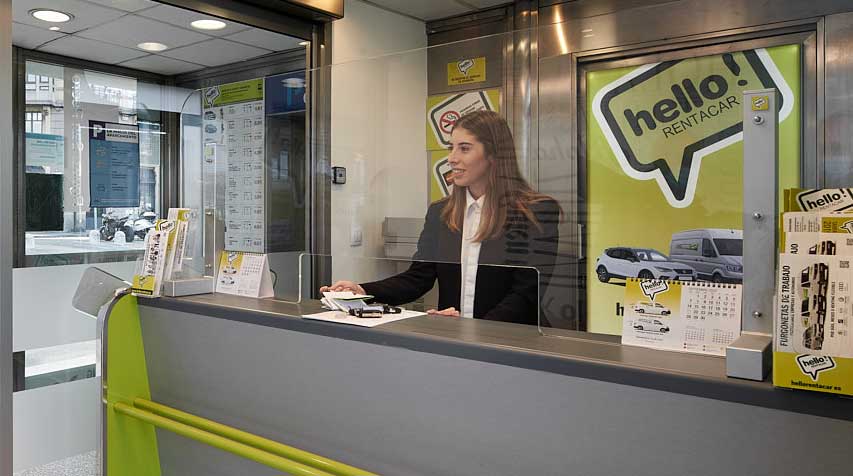 Why should you trust us?

Transparency
Trust is based on good communication, which is why our prices are clear and detailed, with no last-minute surprises.

Experience
We have been in the sector for more than 30 years; thousands of satisfied customers endorse us, making us one of the most highly valued companies in Spain.
Security
Our fleet is made up of the best brands of modern vehicles. Our rentals include insurance for driver and passengers.

Service
We are passionate about what we do, which is why we always strive to give the best possible service to all our customers.
Points of interest in Santiago de Compostela
Santiago de Compostela, the capital of Galicia, stands out for its monumental character. Whether you are travelling for business or leisure, our car hire will allow you to move around with ease.
With our commercial vehicles you can also get close to this World Heritage city full of exceptional places such as the Plaza del Obradoiro and the cathedral dedicated to the Apostle Santiago, the Hostal de los Reyes Católicos and other tourist attractions. But if this Galician epicentre is famous for anything, it is for being the final destination of the Camino de Santiago, which attracts thousands of faithful pilgrims and intrigued travellers every year.
Even if you are travelling for work, we invite you to discover the enchantingstreets of Santiago de Compostela, where history and gastronomy go hand in hand.