Van rental in Oviedo
At hello! Rentacar we have a wide range of options for van hire in Oviedo. We have the most competitive prices in van rental, without a driver, with all costs included in the price listed on the web, no nasty surprises.
Depending on what you need, we offer a rental service on two product lines.
We offer passenger vans, which come fully-equipped and are always in the best condition, making your transport in Oviedo easier and more comfortable, regardless of the number of people.
If you are looking to rent a cargo van in the centre of Oviedo for workn, you will also find incredible rental conditions o our wide range of industrial vehicles. Do not hesitate to ask for a quote, without any kind of obligation.
Check out our list of affordablevans for rent in Oviedo and, if you have any questions, just visit us or give us a call. You can pick up your van in the centre of Oviedo, at our office located next to the Renfe train station (Avenida de Santander, 3, CP 33.001).
Plus, our van hire in Oviedo is at your disposal every day of the year, at unbeatable prices.
Do you need to rent a van by the hour in Oviedo? At our central office, next to the train station, you will also find the best option for you to enjoy your vehicle all day long without worrying about excess hours. Enjoy a fixed price, with a discount included and feel confident that there will be no hidden extras.
hello! Rent a Car Oviedo Centro
Estación Renfe, Av. de Santander, 3, CP 33001 Oviedo
OPEN
| | Morning | Afternoon |
| --- | --- | --- |
| Monday | 08:00 - 08:00 | 16:00 - 20:00 |
| Tuesday | 08:00 - 08:00 | 16:00 - 16:00 |
| Wednesday | 08:00 - 08:00 | 16:00 - 16:00 |
| Thursday | 08:00 - 08:00 | 16:00 - 16:00 |
| Friday | 08:00 - 08:00 | 16:00 - 16:00 |
| Saturday | 08:00 - 08:00 | 16:00 - 16:00 |
| Sunday | 08:00 - 08:00 | 16:00 - 16:00 |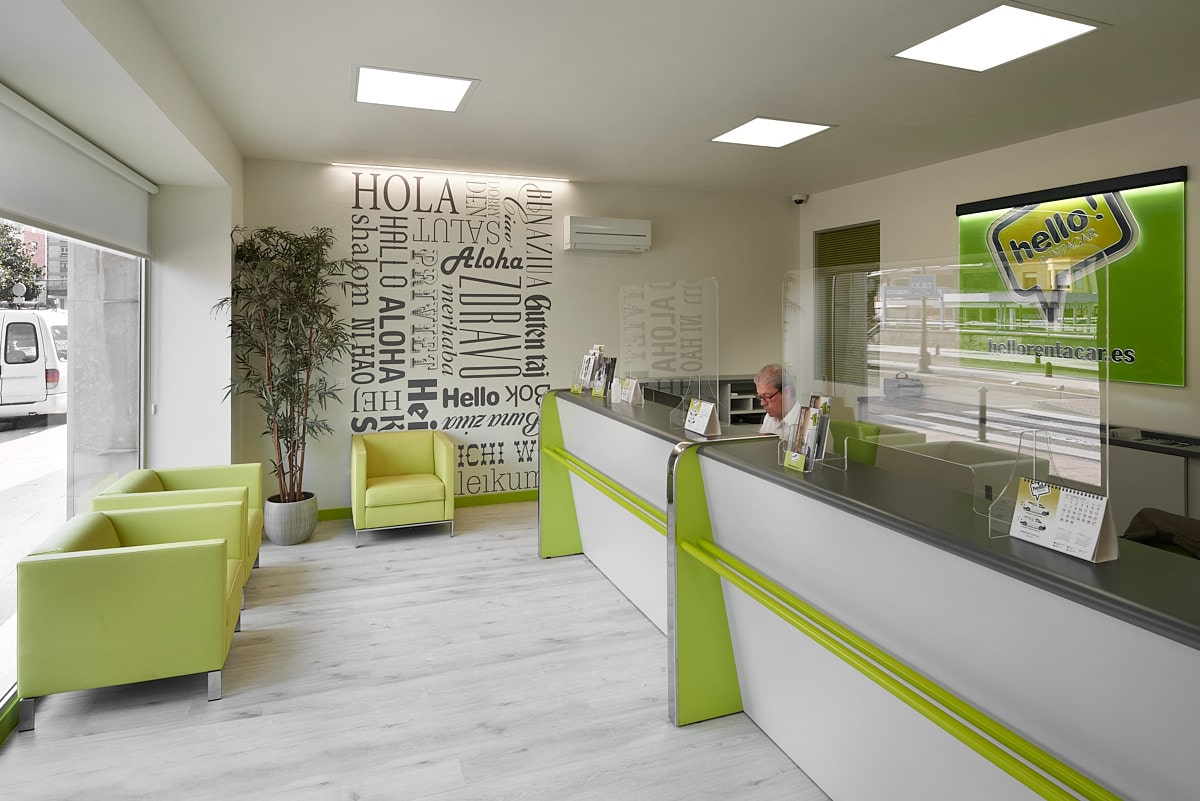 Why should you trust us?

Transparency
Trust is based on good communication, which is why our prices are clear and detailed, with no last-minute surprises.

Experience
We have been in the sector for more than 30 years; thousands of satisfied customers endorse us, making us one of the most highly valued companies in Spain.
Security
Our fleet is made up of the best brands of modern vehicles. Our rentals include insurance for driver and passengers.

Service
We are passionate about what we do, which is why we always strive to give the best possible service to all our customers.
Points of interest in Oviedo
Oviedo, with 220,000 inhabitants, is the capital of the Principado de Asturias and has a unique cultural heritage. If you are staying in the city on holiday, here are just a few of the city'smost emblematic places.
Strolling through the old quarter, the Cider Boulevard, the Campoamor Theatre, the Cathedral of San Salvador with its Holy Chamber, or the San Francisco Park are just some of the points of interest that you cannot miss if you are visiting Oviedo. Its architecture also stands out, with the Asturian Pre-Romanesque style,  so unique that you will only find it in this region!