Family car rental
Large cars for unforgettable trips
Travelling together can be a challenge, but with our family car hire we take the stress away, allowing you to focus 100% on enjoying quality time with the family.. We have a wide range of large cars for hire so you can move around freely, without worrying about the number of seats or the amount of luggage you have to carry. Excess luggage definitely won't be a problem when you rentone of our family vehicles!
Rent your car for a large family
Do you need extra seats without sacrificing comfort for everyone? We have the solution: family vehicles for 7, 8 and up to 9 passengers in which you can travel worry-free and in complete safety. A vehicle that fits the size of your family, it is as simple as that. Rent it now through our booking engine and take advantage of the significant discount for booking online.
Advantages
More seats for the whole family
Spacious luggage compartment
Maximum safety and comfort
Features
Different configurations
MPV, SUV and station wagon
5 and 7-seater
Spacious living space
Requirements
Minimum age of driver: 19 years old
Minimum experience: 1 year
See available vehicles
Why should you trust us?

Transparency
Trust is based on good communication, which is why our prices are clear and detailed, with no last-minute surprises.

Experience
We have been in the sector for more than 30 years; thousands of satisfied customers endorse us, making us one of the most highly valued companies in Spain.
Security
Our fleet is made up of the best brands of modern vehicles. Our rentals include insurance for driver and passengers.

Service
We are passionate about what we do, which is why we always strive to give the best possible service to all our customers.
Our family rental cars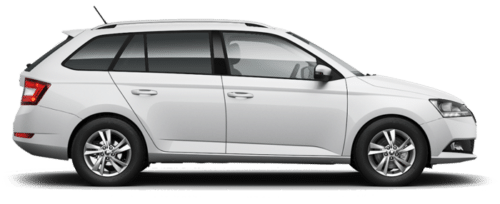 Skoda Fabia ST

Skoda Superb Combi
Where can you rent a family car?