Car rental in Madrid
At hello! Rentacar we have a wide range of rental cars at prices to suit all budgets. If you are looking for cheap car hire in Madrid, you only have to access our booking engine to tell us your preferences and in a few seconds we will give you several options to choose the car that best suits your needs for your trip around the city, always with the best value for money.
You can benefit from an interesting online discount if you pay for your car hire in Madrid through our website. With total transparency in the detailed services and a fixed final price, no surprise costs!
If you are looking for a car hire in Madrid Barajas, we are close by. You will find us at Calle de Valentín Beato, 14 in Madrid, just 15 minutes from the airport. For those interested in car hire in Atocha, our office is located 2 minutes walk from the metro stop Suanzes, line 5, which connects in Callao with line 3 of the Madrid metro that leads to the Atocha train station.
We offer you the cheapest car hire without compromising on the quality of service you receive. No hassle or small print to worry about, so don't hesitate to check it out and enjoy your trip in Madrid!
hello! Rentacar Madrid Centre
Calle de Valentín Beato, 14. 28037 Madrid
OPEN
| | Morning | Afternoon |
| --- | --- | --- |
| Monday | 08:30 - 13:30 | 16:00 - 20:00 |
| Tuesday | 08:30 - 13:30 | 16:00 - 20:00 |
| Wednesday | 08:30 - 13:30 | 16:00 - 20:00 |
| Thursday | 08:30 - 13:30 | 16:00 - 20:00 |
| Friday | 08:30 - 13:30 | 16:00 - 20:00 |
| Saturday | 09:00 - 13:00 | cerrado - cerrado |
| Sunday | 10:00 - 12:30 | cerrado - cerrado |
(*)Vehicles can be returned at any time and day of the year, in the key box assigned for this purpose.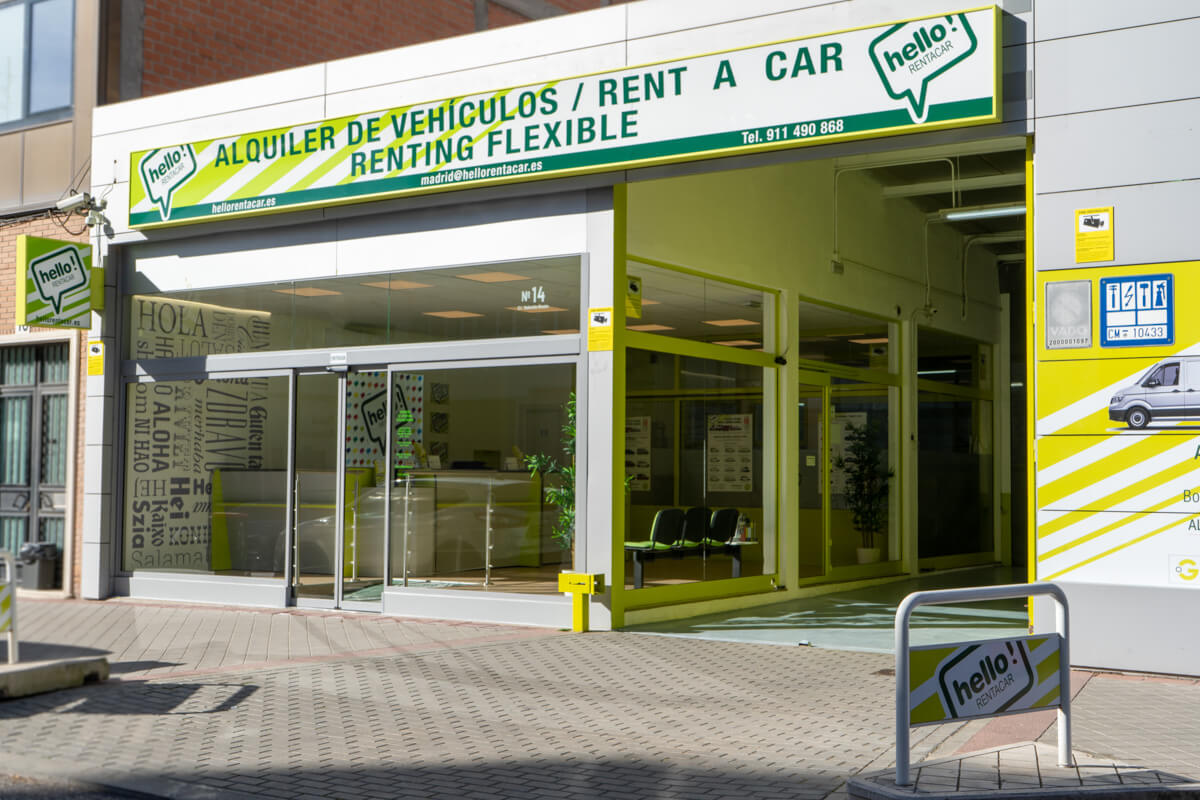 Why should you trust us?

Transparency
Trust is based on good communication, which is why our prices are clear and detailed, with no last-minute surprises.

Experience
We have been in the sector for more than 30 years; thousands of satisfied customers endorse us, making us one of the most highly valued companies in Spain.
Security
Our fleet is made up of the best brands of modern vehicles. Our rentals include insurance for driver and passengers.

Service
We are passionate about what we do, which is why we always strive to give the best possible service to all our customers.
Our car hire in Madrid Centre
How to get to Madrid Centre office
How to get to Madrid Centre
Madrid is undoubtedly one of the best-connected cities in Spain, with an extensive transport infrastructure that makes it easy to get to and around the capital in comfort.
By plane: Madrid-Barajas airport is perfectly connected to Spanish capital by road, metro, taxi, bus or shuttle bus. It takes around 30 minutes to get to the city centre by public transport.
By train: The Renfe suburban train network links up with the metro network and connects the suburban areas and towns of the region with the capital. The suburban trains run frequently and are very convenient for journeys to areas further out of the city.
By bus: the EMT (Empresa Municipal de Transportes) urban bus network has an important network of lines that cover practically all of Madrid, even to those points where the metro network does not reach. There are night buses or "búhos" with more than twenty-five routes and most of the EMT buses are accessible for people with reduced mobility.
By metro: Madrid has a very extensive metropolitan metro network that covers almost all parts of the capital and locals use extensively, with 12 main lines, three light metro lines and the branch that connects Ópera with Príncipe Pío. It is one of the most efficient means of transport for getting around.
Points of interest in Madrid Centre
Madrid is a privileged city with a wide range of cultural, historical and gastronomic offerings, making it one of the most vibrant places in Europe. It is an ideal city to take a city break and enjoy its atmosphere 24 hours a day. These are just some of the many places of interest that the city of Madrid has to offer:
Emblematic squares such as Puerta del Sol or Plaza Mayor. The former is an excellent starting point to explore the streets of the centre of Madrid on foot. From there you can reach the picturesque Plaza Mayor to sit on one of its terraces and enjoy the atmosphere. In this square you will also find the main tourist office.
Endless museums, galleries and theatres: From the Art Triangle, which includes internationally renowned museums such as the Prado Museum, the Thyssen-Bornemisza Museum and the Reina Sofía Museum, to independent galleries and museums of all kinds. Art is part of the essence of Madrid. So are cinemas, theatres and clubs with performances. Madrid's artistic and cultural offer is (almost) infinite.
Historical monuments such as the Royal Palace, just opposite the Almudena Cathedral and close to the Plaza de Oriente, the Temple of Debod, or the Puerta de Alcalá. There are many corners of the city with a historic building worth seeing. Gran Vía, the most famous street in Madrid for those who want to see the hustle and bustle of its visitors and shops in the capital.
Interesting neighbourhoods, such as Malasaña with its vintage shops and street markets, Chueca, a reference point for the LGTBIQ+ community, or La Latina, popular with locals for dinner or a drink.
Cities near Madrid Centre
Madrid, situated in the centre of Spain in what is known as the KM0 of the country, is ideally located for day or weekend getaways to nearby cities as impressive as Toledo, Ávila, Segovia or Cuenca. All of them can be reached by road in a journey of between one and two hours. Within the region, two of the main towns that are easily accessible and attract many visitors each year are Aranjuez and Alcalá de Henares.
Frequently Asked Questions
How to rent a car in Madrid?
If you are going to spend a few days in Madrid and you need to rent a car, hello! Rentacar makes it easy for you. All you have to do is enter your preferences in the booking engine and in just a few minutes we will give you several options with the best value for money.
What to consider when renting a car in Madrid?
These are the requirements for car hire: a credit card, your ID card or passport and your driving licence, valid in Spain and at least two years old. Remember that 24 hour assistance is included in your rental while fuel and refuelling are not included in the price. Do not hesitate to check our terms and conditions for more details or contact us directly at hello! Rentacar de Madrid.
Which car rental company in Madrid is the cheapest?
At hello! Rentacar always offers several car rental options at competitive prices and with the best quality of service. We give you a final and closed price, with no surprises afterwards. You can check it in our booking engine. If you book online, you can also benefit from an interesting discount on your rental.
How much does it cost to rent a car per day in Madrid?
The price of your car hire in Madrid will depend on the type of vehicle you choose and the number of days, number of kilometres, etc. The best way to find out your final price is to use the booking engine on our website. It will take you very little time to do so.